"1960 Vespa 400"
For most people, the Vespa is an Italian motor scooter. If you're really hip to the subject however, you are aware that there was also a 4 wheeled vehicle which carried the Vespa nameplate.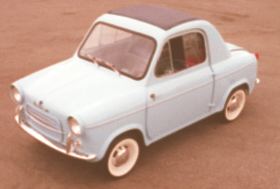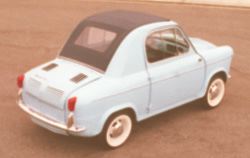 Specifications
Layout: Rear Engine, Rear wheel drive.
Engine: Two cylinder, two stroke, air cooled. Bore, stroke: 63mm x 63mm (392 cc).
Compression ratio: 6.4 to 1.

Suspension: Four wheel independant.Four double acting hydraulic shock absorbers with coil springs.
Transmission: 3 speed, with 2nd, 3rd and reverse synchromesh. 4 speed available in non US markets.
Body Dimensions: Width: 50 inches. Length: 112.5 inches. Height: 49.2 inches. Weight: under 850 lbs. Track, front and rear: 43.3 inches. Wheelbase: 66.75 inches.


Performance: With only 18 hp, there isn't any. Top speed is 50 to 55 mph, depending on road grade, wind conditions, etc. Achieving said top speed takes a leisurely 25 seconds. The reward for your patience is roughly 55 mpg.