"1962 Austin Healey 3000"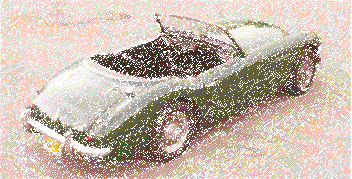 The Austin Healey 3000 was the last of the legendary series of sports cars known as "The Big Healeys". The series started in 1953 as the 100-4, which used a 4 cylinder 2660 cc. engine that produced 90 bhp. A 6 cylinder engine displacing 2639 cc. and 102 bhp. was introduced into the 100-6 in 1956 to satisfy increased competition. The partnership that resulted in the name "Austin Healey" was comprised of Donald Mitchell Healey who designed the cars and Austin, the manufacturer.
---

The car you see here is a 1962 3000 Mk II, which followed the 100-4 and 100-6. The 3000 debuted in 1959 and featured a new 6 cylinder 2912 cc. engine rated at 124 bhp. The 3000 benefited from improved handling and front disc brakes.

Specifications
Layout: Front Engine, Rear wheel drive.
Front suspension: Independent with wishbones, coil springs, lever arm shock absorbers and anti-sway bar.
Rear suspension: Live axle, leaf springs, Panhard rod, lever arm shock absorbers
Engine: Six cylinder, ohv, four main bearings. Bore, stroke: 83.4mm x 88.9mm (2912 cc). Compression ratio: 9.0:1.
Transmission: 4 speed manual with electrically operated Laycock de Normanville overdrive available as an option.
Weight: 2562 lb.
Top speed: 116 mph.

Three SU HS4 1 1/2 inch carburetors came with the 1962 Austin Healey 3000, boosting engine power to 132 bhp. They proved difficult to keep synchronized however and were replaced by two SU HD6 1 3/4 inch carburetors after only 10 months. Output however was almost identical at 131 bhp. Zero to Sixty acceleration was typically 10.5 seconds.

---
---