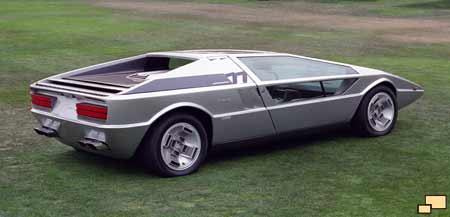 About the Maserati Boomerang:
The Maserati Boomerang was a show car designed by the famed Italian car designer Giorgetto Giugiaro and was first seen by the public at the Turin Italy show in 1971. At that time it was just a model, but when exhibited at the Geneva auto show in March of 1972 it was a fully functional car. The drivetrain was from a Maserati Bora, a mid engine car produced by Maserati. It had a 310 hp 4.7 liter engine with a top speed of 185 mph. At the time it was built, Maserati was owned by Citroen and so the Boomerang featured (or was cursed with?) that companies hydraulics which controlled the brakes, seats and suspension. Many show cars are just non-functioning models, so the fact that the Boomerang was road-worthy set it apart from the others. It is also rare in that it is now in private hands; most running show cars of which only one exist (as in the the case of the Boomerang) are never available in the marketplace.
The Boomerang sold for $627,923 in Paris on February 12, 2002.
It sold for $1,000,000 at Christies Retromobile auction in Paris on February 12, 2005.
info: Sports Car Market, June 2002, page 47 and Sports Car Market, May 2005, page 46.
---
---
---
Note: Clicking on an image with this symbol (

) will lead to a larger image.
---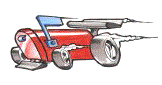 Suggestions?
Comments?
Tell us!!!